The 14th European Wave and Tidal Energy Conference
EWTEC2021 | 5th – 9th September 2021 in Plymouth, UK
Dear Member of the Marine Energy Community,
The University of Plymouth are delighted to be hosting the 14th European Wave and Tidal Energy Conference on 5th to 9th September 2021, and welcoming the wave and tidal community to the city of Plymouth in the heart of the South West of England.
The region draws from a rich heritage of marine and maritime expertise to maintain its powerful track record as a hub for research and development in offshore renewable energy.
The University of Plymouth's history of excellent coastal and ocean engineering spans decades, and attracts talented scientists to join the ranks in the search for innovative solutions to global engineering challenges – making it the perfect host for EWTEC 2021.
The University of Plymouth is located on the beautiful coastline of South Devon, and at the heart of the very centre of the city. We're one of the largest Universities in the region, and our world-leading researchers and state-of-the-art test facilities attracts some of the top marine-related academic and commercial research projects from around the world.
Plymouth and its stunning historical waterfront location, rich maritime history, natural harbour and diversity in fish and marine life in Plymouth Sound, has led to it being named as the UK's first National Marine Park. We've also been named as one of the best holiday destinations for 2020 and the friendliest city in the UK.
With excellent transport links, breath-taking views of the coast and countryside, range of restaurants, quirky independent and top brand shops, Plymouth has something for everyone.
We look forward to welcoming you to our vibrant city for EWTEC 2021.
EWTEC 2021 Themes:
Wave / tidal resource characterization.
Wave / tidal device development and testing.
Wave / tidal hydrodynamic modelling.
Grid integration, PTO & control.
Station keeping, moorings and foundations.
Structural mechanics – materials, fatigue, loadings.
Environmental impact and appraisal.
Operations, maintenance and decommissioning.
Economical, social, legal and political aspects of ocean energy.
Conference special issue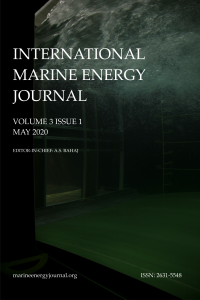 Outstanding papers will be selected and considered for review and publication in the International Marine Energy Journal (IMEJ). The IMEJ (ISSN 2631-5548) is the associated journal of the European Wave and Tidal Energy Conference with all papers given a unique doi number.
Conference venue

Due to the ongoing COVID-19 situation, whilst we are hopeful we will be welcoming as many delegates as possible to the University of Plymouth in September, we have made the decision to run the conference in a hybrid format. As a result, you now have the option to attend the conference either in person or online.
For those attending in person, the main conference will take place at various locations around the University of Plymouth campus. Detailed location information and a map of the campus will be circulated closer to the conference date.
The contact details for the University of Plymouth events team for EWTEC are:
Address: University of Plymouth, Drake Circus, Plymouth, Devon, United Kingdom, PL4 8AA
Email (University of Plymouth events team): ewtec2021@plymouth.ac.uk
Telephone (University of Plymouth events team): +44 1752 586005

Sponsorship and exhibition opportunities
We are delighted to be able to offer several exciting sponsorship and exhibition opportunities.
EWTEC 2021 is a unique opportunity to bring together hundreds of experts in the fields of wave and tidal energy, to the City of Plymouth as well as the wider South West of England. Benefits will include:
the chance to meet face to face with more than 500 experts in wave and tidal energy
the opportunity to strengthen your network and create new partnerships
the opportunity to promote your organisation's products and services to Europe's leading experts shaping developments in a rapidly expanding sector
Sponsorship: Standard sponsorship packages include gold, silver and bronze partners, as well as further opportunities including handbook advertisements. We have a range of sponsorship packages to suit all budgets – if you don't see what you're looking for, please contact us to discuss your requirements.
Exhibition: Exhibition spaces are available for research institutes, universities and industrial professions and start at £2,175 + VAT for a 6sqm space.
Industry sessions: Industry sessions and side events are a great opportunity for you to showcase your company or research. Session prices are from £350 + VAT.
More information about these opportunities can be found in the sponsorship document, or by contacting ewtec2021@plymouth.ac.uk