Additional information will be added periodically so please check in regularly.
Friday September 1st, 2017 Schedule
---
All Day Event – International Symposium on "Novel Composite Materials and Processes for Marine Renewable Energy", Cork, Ireland, September 1st 2017
A one day International Symposium will be held in Cork, Ireland on September 1st, 2017 on the topic of 'Novel Composite Materials and Processes for Marine Renewable Energy'.  The symposium is being organised by the consortium behind the EU FP7 Marie Curie IAPP project MARINCOMP, led by University College Cork and the University of Edinburgh, and involving partners University of Ulster; Toray Carbon Fibers Europe, ÉireComposites, Suzlon Energy and Scotrenewables Tidal Power.
To book, please follow this link – International Symposium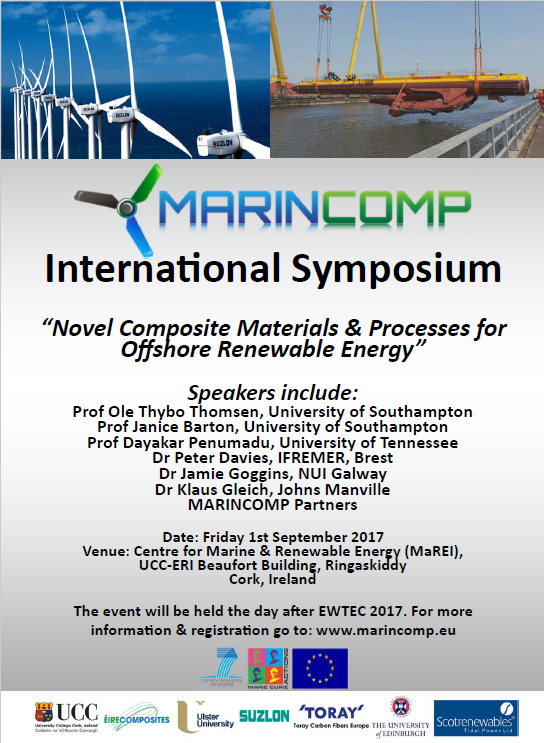 ---
Day Trip Limerick Technical Tour – CONFIRMED
To book, please follow this link
Unfortunately, due to circumstances out of our control, the trip to Galway has been cancelled.
09:00 – 10:00                      Depart Cork City, Grand Parade  
10:00 – 10:45                      Coffee & Scones at The Charleville Park Hotel
10:45 – 11:30                      Travel to Limerick Docks   
11:30 – 13:30                      Tour of GKinetic, Limerick Wet Dock Facility 
Attracting an international audience, in October, 2015, GKinetic successfully deployed and demonstrated a 10kW device in the Limerick Docks. They setup this custom purpose test facility by collaborating with Shannon Foynes Port Company (SFPC), who own and operate the docks. This test facility has the capability for towing of large scale systems to simulate operations in water flow.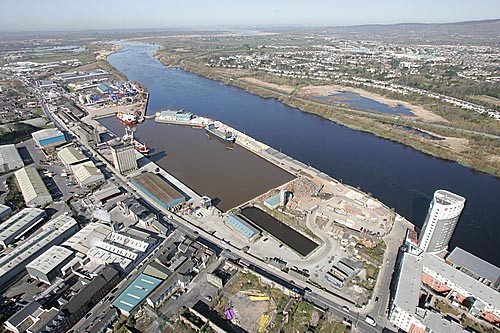 The Limerick Docks is located on the banks of the River of Shannon in Limerick City, Ireland. While this facility manages a number of operations for the abundance of activity on the Shannon Estuary, there is a significant opportunity for technology developers to 'get metal wet here'. The wet dock facility is an enclosed freshwater basin with controlled water levels. The water level is maintained at a minimum of 5 meters. This controlled environment available at the Limerick Docks can help minimize risk and better prepare and develop both the technology and team for open water testing.
13:30 – 14:00                      Depart Limerick Docks
14:00 – 15:00                      Lunch at Bunratty Castle Cornbarn
15:00 – 17:30              Explore Bunratty Castle & Folk Park with Souvenir shopping opportunity.
Bunratty Castle & Folk Park is a must on your itinerary to Ireland. This is your chance to experience a window on Ireland's past, and explore the acclaimed 15th century Bunratty Castle and the 19th century Bunratty Folk Park.
Bunratty Castle is the most complete and authentic medieval castle in Ireland. Built in 1425 it was restored in 1954 to its former medieval splendor and now contains mainly 15th and 16th century furnishings, tapestries, and works of art which capture the mood of those times. At the Bunratty Folk Park you can enjoy the sights, sounds tastes, scents, of this enchanting place as you stroll from house to house or around the charming village street complete with school, post office, doctors house, hardware shop, printers and of course McNamara's pub!
17:30 – 19:30                   Depart Bunratty and return to Cork City, Grand Parade 
The quotation has been based on the following:
1 Day Touring on a Private Coach
Coffee and Scones at The Charleville Park Hotel
Tour of the GKinetic Facilities
3-Course Lunch at Bunratty Cornbarn
Visitors Pass to Bunratty Castle & Folk Park
TOTAL BASED ON MINIMUM 25 PERSONS
---

This research was carried out with the support of the Marine Institute under the Marine Research Programme with the support of the Irish Government